Hot Tub & Swim Spa Covers
Custom Made Replacement Hot Tub Covers
Is your old hot tub cover getting heavy? Has it started lift around the edges? It may be time to replace it. If your hot tub cover is getting heavier or starting to cup, chances are that it is waterlogged. This is a completely normal thing that happens to every hot tub cover as it ages. The problem is that water is an extremely poor insulator. While replacing your hot tub cover will cost a few hundred dollars, leaving an old, waterlogged cover on your hot tub can cost much more than that in less than a year.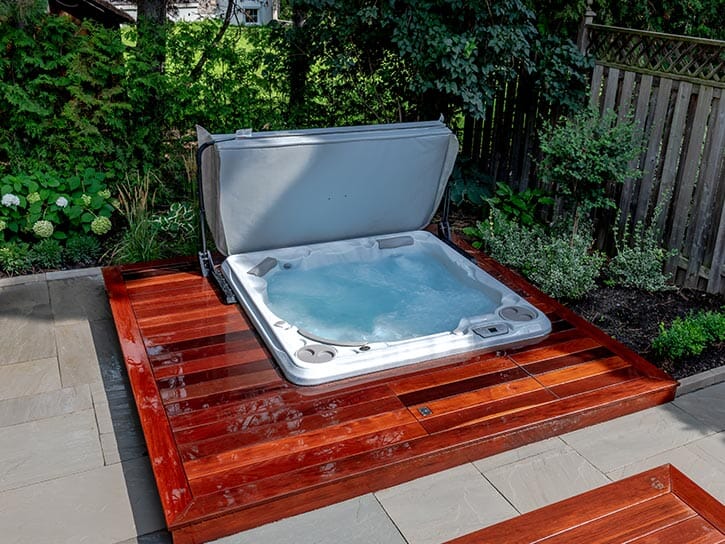 Canadian-Made Hot Tub Covers
At York Region Pools & Hot Tubs, we offer Canadian made, environmentally friendly, CFC free foam insulating covers. All of our hot tub covers are custom made to fit your hot tub and include a full foam sealer. The full foam sealer fully insulates the space between the two sides of the cover; allowing for the best possible insulating value and saving you hundreds of dollars in energy costs over the lifetime of the cover.
Our replacement hot tub covers are covered with a marine-grade vinyl which includes UV and mildew inhibitors. They also feature double stitched reinforced handles and aluminum channels in the centre of the cover to improve strength and provide long-lasting quality.
Our premium hot tub covers are available in 3″-2″ tapered foam, 4″-3″ tapered foam, 5″-4″ tapered foam, 6″-4″ tapered foam, and 19 colours. For samples of available colours, contact us today.
Don't have a big enough vehicle to take the new cover home? Need to get rid of your old cover? We can help! Ask us about our convenient hot tub cover delivery and removal services.
End 2 End Swim Spa Covers
Traditional foam section swim spa covers can be a bit of a hassle. They require two people to remove and storing them when they're not in use can be a real pain. Fortunately, there is a better way! End 2 End covers offer a unique one-piece design that allows you to simply roll the cover to one end of the swim spa; no lifting or storage required!
Their revolutionary one-piece design also means that End 2 End covers form a complete seal on-top of the swim spa; locking in the heat and reducing your monthly energy costs!
End 2 End covers are manufactured with the highest quality commercial grade materials, providing a strong, durable, lockable safety cover. They are built to last in all weather conditions and can handle heavy snow loads. The vinyl skin and thread are also UV protected so they will not deteriorate in direct sunlight.